THE "TORTA DEI FIESCHI"
"THE FIESCHI'S CAKE"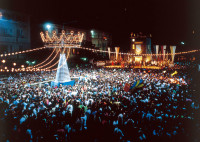 Lavagna has been celebrating its illustrious past with this famous festival in period costume since 1949: these are the celebrations of 14th August - the "Torta dei Fieschi". It is the re-enactment of the lavish wedding celebrated in 1230 between the Count Opizzo Fieschi of Lavagna and his bride Bianca dei Bianchi of Siena.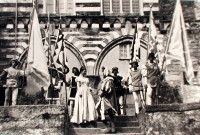 The story goes that the bride and groom wanted to donate a giant cake to the people as a mark of the family's generosity - but also as a sign of their economic strength.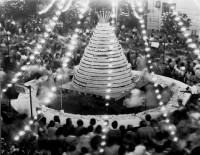 This medieval "gossip" formed the basis for a grand historical procession involving one hundred and fifty characters in period costume, a charming spectacle that reconstructs the old "Fieschi Tower", dances, fencing contests, flag-throwing competitions,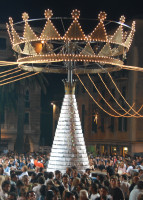 live medieval music, a horse show, an entertaining "hunt for your soul mate" involving participants and spectators alike.
At the end of the festival, slices from a huge cake weighing 13,000 kilograms are distributed to the twenty thousand or so spectators who flock here every year.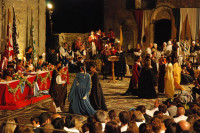 Of course, every self-respecting wedding is preceded by a buck's night: so, on the evening before the wedding, on 13th August, the forecourt of the Basilica dei Fieschi in San Salvatore di Cogorno is where Count Opizzo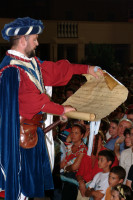 and his knights and numerous noblemen and women from the various Sestieri - the six ancient quarters of the town of Lavagna - participate in a sumptuos feast in his honour.
In front of the fine black and white horizontal striped basilica, guests feast and celebrate with music, dancing, horses parades and tournaments, until the herald of the Count arrives to read the wedding proclamation.